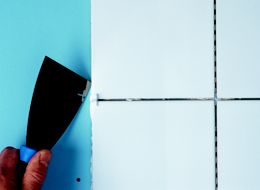 According to wikipedia's definition, "a tile is a manufactured piece of hard-wearing material such as ceramic, stone, metal or even glass, generally used for covering roofs, floors, walls, showers, other objects such as tabletops"
These days, tiles can be found in very many places as objects for decoration. For decorating a whole building, tiles can as well be used for covering indoor and outdoor fountain, public taps, police counter, altars, cashier table, graves, etc
Tiles can be made on the wall or floor but our concern. In order to fix your wall tiles yourself, get the required quantity of tiles, get a soaking bowl or drum depending on the rate of tiles needed, get a tile cutter in case you may need to cut your tile, get cement ready, you will need a rubber hammer, you might as well need white clay for covering gapes, it must be noted that professionals may use other things but the vital thing are the ones mentioned.
How to lay Wall Tiles
Step 1: soak the tiles in water for at least 3 hours
step 2: make a cement/water paste (note:you need to scrape the wall and the back of the tiles before adding paste)
step 3: spread the cement paste on the tiles wet rough surface
step 4: lay the tiles with cement paste on the rough wall surface you have made.